Over 100 monkeypox cases confirmed in 20 countries: Key points
NEW DELHI: Health authorities in Europe, North America, Israel and Australia have identified more than 100 cases of monkeypox in recent days.
Monkeypox originates in primates and other wild animals and causes fever, body aches, chills and fatigue in most patients. People with severe cases can develop a rash and lesions on the face, hands and other parts of the body.
Officials around the world are keeping watch for more cases because, for the first time, the rare disease appears to be spreading among people who didn't travel to Africa, where monkeypox is endemic.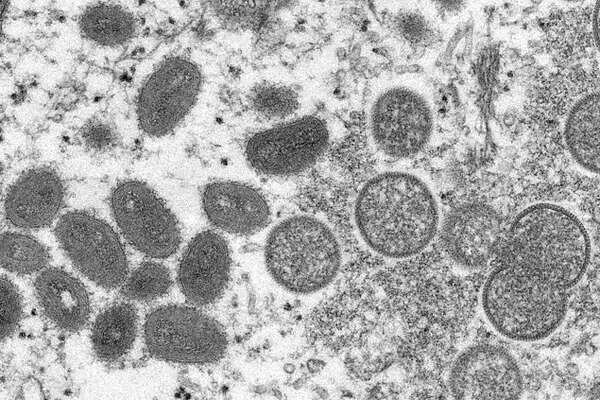 This 2003 electron microscope image made available by the Centers for Disease Control and Prevention shows mature, oval-shaped monkeypox virions, left, and spherical immature virions, right, obtained from a sample of human skin associated with the 2003 prairie dog outbreak.
Here are the top developments:
United Arab Emirates detects first case of monkeypox
Health authorities in the United Arab Emirates detected country's first case of the monkeypox virus in a young woman who traveled from West Africa.
The government said little about the patient, but stressed that authorities were investigating her contacts and "taking all necessary measures" to limit the spread of monkeypox.
The diagnosis in the UAE marks the first reported case on the Arabian Peninsula.
Denmark to provide vaccines to close contacts of monkeypox cases
Denmark will provide vaccines produced by Bavarian Nordic to close contacts of those infected with monkeypox, the Danish Health Authority told public broadcaster DR on Tuesday.
It was not immediately clear whether Denmark had the vaccines in stock or whether authorities would need to procure the vaccines. The Health Authority and the Ministry of Health were not immediately able to comment when contacted by Reuters.
England detects 14 more cases of monkeypox
The UK Health Security Agency (UKHSA) on Tuesday reported 14 new cases of monkeypox in England taking the total number of identified cases to 70 since May 7.
Scotland reported its first case of monkeypox on Monday, but none have been detected in Wales and Northern Ireland so far.
Monkeypox spreads to Austria, Czech Republic, Slovenia
The Czech Republic, Austria and Slovenia have registered their first cases of monkeypox, health authorities said Tuesday.
In the Czech Republic, the disease was detected in a man at Prague's Military University Hospital, according to Pavel Dlouhy, head of the Czech Society for Infectious Diseases.
In Austria, a man, who was hospitalised in Vienna on Sunday with symptoms of monkeypox, including fever, has been confirmed to have contracted the disease, the capital's health authorities said.
In Slovenia, a man, who developed symptoms after returning from the Canary Islands, has also been confirmed to have monkeypox, according to health authorities.
French health authority recommends targeted monkeypox vaccinations
France's health authority said that it has recommended starting a targeted vaccination campaign against monkeypox.
The health authority said it recommended that at-risk adults who have been in contact with a patient with confirmed monkeypox should be vaccinated.
The authority said that this post-exposure reactive strategy made sense given that the incubation period for the virus is often six to 16 days.
It recommended third-generation monkeypox vaccines and said they should be given ideally within four days and up to 14 days following exposure.
Germany orders 40,000 vaccine doses as precaution against monkeypox spread
Germany has ordered 40,000 doses of a Bavarian Nordic vaccine to be ready to vaccinate contacts of those infected with monkeypox if an outbreak in Germany becomes more severe, but officials are banking on other precautionary measures for now.
Moderna testing potential monkeypox vaccines
Moderna Inc is testing potential vaccines against monkeypox in pre-clinical trials as the disease spreads in the United States and Europe.
Moderna did not immediately respond to a request for more details on the monkeypox vaccines.
The US Centers for Disease Control and Prevention said the government was in the process of releasing doses of a smallpox vaccine Jynneos, made by Bavarian Nordic A/S, for use in monkeypox cases.
(With agency inputs)