10 hot seats in last lap of UP assembly poll race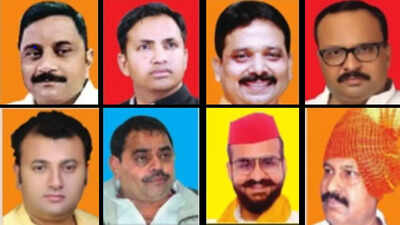 All roads lead to Varanasi, PM Modi's Lok Sabha constituency, as UP polls conclude with voting for the last phase tomorrow. A look at 10 key contests:
1 | Varanasi South 2017 | BJP, 2012 | BJP, 2007 | BJP
One of the most prestigious seats in UP which is home to the Kashi Vishwanath temple and corridor, BJP has had a winning run here since 1989 through 'Dada' Shyamdeo Roy Chuadhary, who won the seat seven times. UP's information and culture minister Neelkanth Tiwari replaced him in 2017 and won the seat narrowly. This time, he is back in the fray and faces a stiff challenge from Kameshwar Dixit of SP. Like Tiwari, he is also a lawyer and the son of the head priest of Maha Mrityunjay temple, therefore, cutting into BJP's vote base.
2 | Varanasi North 2017 | BJP, 2012 | BJP, 2007 | SP
UP minister Ravindra Jaiswal has been winning the seat for the past two elections, though it has swung between BJP and SP before that. Unlike Tiwari in South, Jaiswal registered a thumping win by a margin of over 45,000 votes. The constituency has a sizeable presence of minority voters, therefore both SP and Congress have fielded Muslim candidates— Ashfaq Ahmad Dablu and Gularana Tabassum, respectively. BSP candidate is Shyam Prakash. Jaiswal, who is said to be donating all his MLA salary for public welfare, faces challenge to retain the seat.
3 | Varanasi Cantt 2017 | BJP, 2012 | BJP, 2007 | BJP
It's a family seat of the Srivastavas since 1991. Sitting BJP MLA Saurabh Srivastava is the son of Harish Chandra and Jyotsana Srivasatava, who have won the seats six times between them: Jyotsana four times and Harish twice. Saurabh is facing Congress veteran Rajesh Mishra, who has been a Varanasi MP in the past. Mishra contested from Varanasi South last time and gave a tough fight to Neelkanth and is expected to do the same in Cantt. SP has fielded Puja Yadav, the district president of Samajwadi Mahila Sabha. BSP candidate is a Brahmin, Kaushik Kumar Pandey.
4 | Mau Sadar 2017 | BSP, 2012 | QED, 2007 | IND
Mafia-turned-politican Mukhtar Ansari has maintain his stranglehold over the seat since 1996, twice as an Independent, twice on BSP ticket and once as a candidate of his own party, Quami Ekta Dal. In 2017, he won on BSP ticket. In jail for over two decades, Mukhtar has been replaced by his son Abbas, contestng for SBSP, an alliance partner of SP. Abbas is being challanged by BJP's Ashok Singh. In 2009, Ashok's brother Ajay Pratap Singh was shot and Mukhtar was the main accused. The case is pending in HC. BSP state chief Bhim Rajbhar makes it a keenly fought triangular contest.
5 | Zahurabad 2017 | SBSP, 2012 | SP, 2007 | BSP
It is one of the most bitterly fought contests. All three main contestants have won the seat at least once in the past. The sitting MLA is SBSP chief Om Prakash Rajbhar, who won the seat for the first time in 2017 as a BJP alliance partner. This time he is in the fray with SP's support. BJP has fielded SP turncoat Kalicharan Rajbhar, who had won in 2002 and 2007, but on a BSP ticket. The third key candidate is BSP's Syeda Shadab Fatima. She was a minister in the SP government, but switched over to BSP just before the nominations when OP Rajbhar jumped into the fray as SP-SBSP alliance candidate.
6 | Ghosi 2017 | BJP, 2012 | SP, 2007 | BSP
Former minister Dara Singh Chauhan, who was among eight backward leaders who qui BJP to join SP just after the poll notification, has shifted from Madhuban and is trying his luck from this seat. Since 1985, present Bihar governor Fagu Chauhan has dominated the seat, having won it six times, thrice as a BJP candidate. While Fagu's son Ram Vilas has been fielded from Madhuban, BJP has roped in Vijay Rajbhar to block Dara's passage. He is expected to get the support of over 60,000 Rajbhars in the constituency. He won the seat in the bypolls held after Fagu was sent to Bihar Raj Bhawan.
7 | Mubarakpur 2017 |BSP, 2012 | BSP, 2007 | BSP
This constituency in Azamgarh has been a BSP fort in the past. But this time, the equation has changed as its two-time winner Shah Alam alias Guddu Jamali got off the elephant before the elections. His feelers to SP camp did not receive a response either and he is contesting as an AIMIM candidate. BSP has fielded Abdus Salam. Against them in the direct fight is SP's Akhilesh Yadav who lost by 700 votes to Jamali last time. Arvind Jaiswal is the BJP's candidate. Lal Bihar Mritak, the founder of the Mritak Sangh is also contesting independently from this seat.
8 | Zamaniya 2017 | BJP, 2012 | SP, 2007 | BJP
SP veteran Om Prakash Singh will be up against sitting BJP MLA Sunita Singh yet again on March 7. Last time, he had crashed on the third spot in front of Singh while BSP candidate Atul Rai was at the second position. SP chief Akhilesh Yadav had held a rally in the constituency for the party candidate. Om Prakash 's race to the finish line is going to be difficult as BSP has fielded Yusuf Ali Khan from the seat and he has a potential of splitting up minority votes. Congress, too, has relied on a Muslim woman this time from Usia village, Farzana.
9 | Mohammadabad 2017 | BJP, 2012 | QED, 2007 | BSP
The Rai versus Ansari battle will again take centre stage in Ghazipur with sitting BJP MLA Alka Rai in the fray again. This time, SP has fielded the son of Sibgatullah Ansari, Suhaib alias Mannu, from the seat. The brother of jailed don Mukhtar Ansari, Sibgatullah has been a two-time MLA from Mohammadabad. His other brother Afzal Ansari is a BSP MP from Ghazipur. Alka is the wife of Krishnanand Rai, who was gunned down in November 2005. It is alleged that Mukhtar was behind the killing.
10 | Pindra 2017 | BJP, 2012 | Congress, 2007 | NA
Congress candidate Ajay Rai is shaping up as a formidable force to deal with for sitting BJP MLA Avadhesh Singh in the constituency located on the outskirts of Varanasi. A fivetime MLA, Ajay lost by 90,000 votes and slipped to the third spot in his stronghold in 2017. As commercial operations and connectivity in Babatpur airport have improved and Amul Dairy has come up in Pindra in the past five years, Avadhesh is highlighting them as his achievements. Rajesh Kumar Singh from Apna Dal (K) is also in the fray. While Ajay and Avadhesh are Bhumihars by caste, Rajesh is Kurmi.
FacebookTwitterLinkedinEMail